Organic Egg Packing Gets A Boost
in News 20th November 2020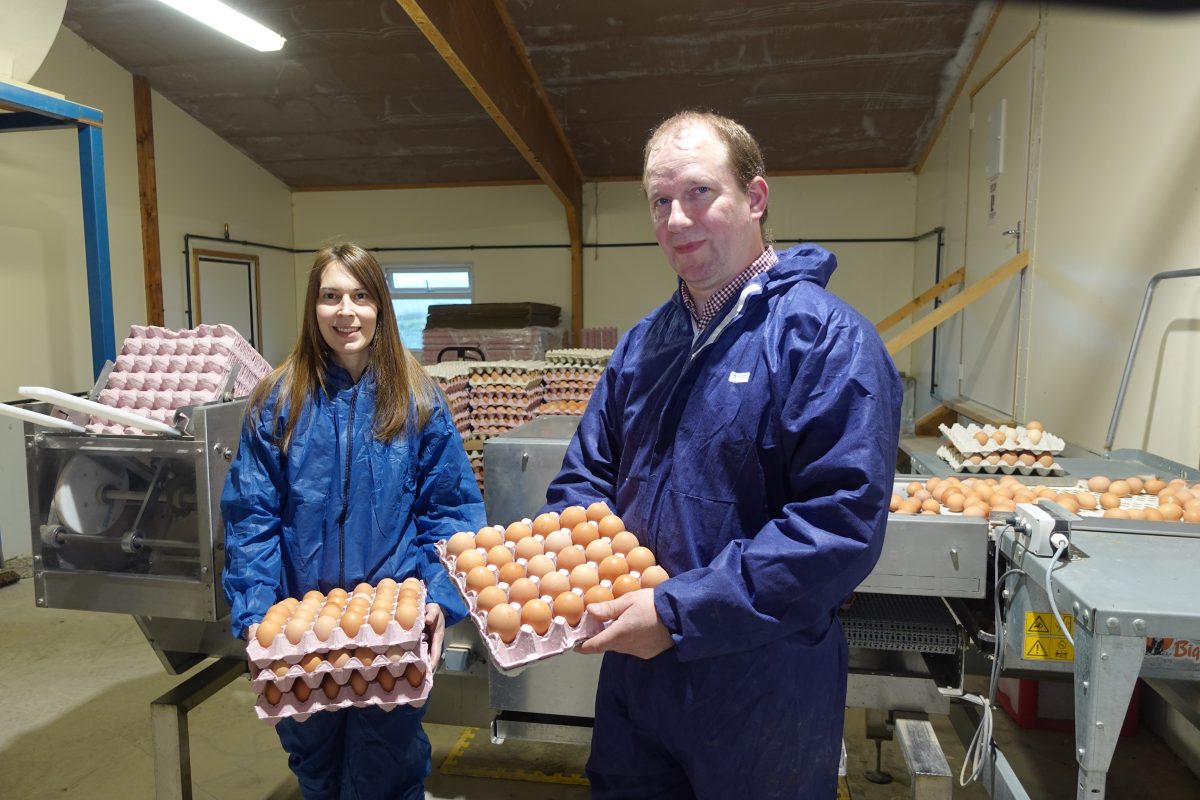 Packing eggs from 9,000 hens on a daily basis takes time, patience and expertise. David and Sharon Hall from Glebe Farms, Rathfriland have been carrying out this task for the past eleven years.
Sharon explains "We started free range organic egg production 11 years ago when I called with a local egg packer to purchase 6 hens for my young son.   During that visit it was suggested that we erect a house for organic free range hens. That suggestion resulted in the establishment of the current flock of 9,000 hens and the recent decision to find a more efficient system of egg packing in order to leave more time for other farm tasks and for family."
After detailed research they found the system they wanted but the cost was a major factor. They submitted an online application to the Farm Business Improvement Scheme, completing the "making it safer" risk assessment as part of the application.
They were delighted to learn their application for an automatic egg packer was successful.  This is now in operation and Sharon outlined the system. "The nest boxes and lighting system operate throughout the day and the eggs roll from the nest onto a conveyor belt which brings them to the packing house. The only input we have is a quality check as the eggs go into the packer, which packs the eggs into trays which are then stacked unto pallets, cling wrapped and go into the refrigerated store until collection by the egg packer."
The time saving is significant in that packing by hand took 1.5 hours in each house whereas the packer carries out this task in 20 minutes. David Hall added "our egg packer supply most of the major supermarkets with free range organic eggs and have very stringent quality control standards to meet. We are pleased that we have not only saved considerable time in the poultry enterprise but can also ensure that we continue to meet the ever increasing quality controls that the industry demands."
He continued "The time saved in the poultry unit can be utilised in our organic beef enterprise which is a suckler herd of Angus and Simmental crosses with some Stabiliser cattle. The progeny are sold as weaned calves to organic finishers who are familiar with the quality of our stock and make repeat purchases each year."
Commenting on the impending deadline for making an application for financial support under Tranche 3, Dr Andrew Kerr, Contract Manager with Countryside Services Limited commented:
With the deadline of 4th December for submission of completed applications fast approaching, we are encouraging all farmers wishing to apply, not to leave submission to the final days of the application period, but prepare their application early.  In particular, Dr Kerr reminded farmers that an up to date 'making it safer' certificate and 'indication of support letter' from their bank must be uploaded as part of the online application process.  All applications should be completed online using the EU grants European Structural & Investment Funds website www.eugrantfundingni.org
Dr Kerr added:  "There has been considerable interest in the scheme to date, with our administration team dealing with a high volume of enquires on a daily basis.  If any farmer or grower has any queries regarding the scheme, they can contact a member of our team on 028 8778 9770."
---