Farm Business Improvement Scheme (FBIS) – Capital Scheme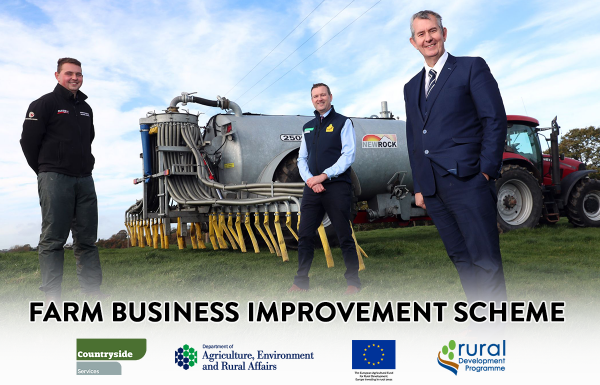 Countryside Services are responsible for the delivery of a range of service contracts targeting support to rural businesses including the FBIS.
FBIS is a package of measures aimed at improving the competitiveness and sustainability of the farming sector. FBIS is an important part of the Rural Development Programme (RDP) 2014 to 2020 and is being rolled out in a phased way. The first phase of the FBIS is already underway with the launch of Business Development Groups and Farm Family Key Skills, which will make advice and support available to help farmers clearly identify their needs and make the right decisions about developing their business. The FBIS Capital Scheme opened on 31 October 2016.
Introduction to the scheme
The Preparation Stage for the Capital Scheme opened on 20th September 2016.  Its purpose is to make information available about the key features of the Scheme and to help farmers to begin thinking about what they need to do if they are interested in applying for grant support.
FBIS – Capital Scheme overview and timeline
The Capital Scheme has two separate tiers – Tier 1 and Tier 2.  The grant rate of funding for both tiers in the Scheme is 40% of eligible costs.  Two Tranches of the Scheme were planned in its initial phase, however, Tier 1 has now been extended with Tranche 4 of the Farm Business Improvement Scheme – Capital (FBIS-C) reopening on Tuesday 27th  September 2022.  The scheme closed for receipt of applications on Friday 11th November 2022.  FBIS-C is part of the Farm Business Improvement Scheme, a package of measures aimed at improving the competitiveness and sustainability of the farming sector.
Tier 1
Farm Business Improvement Scheme Tier 1 Tranche 4 opened for receipt of applications on Tuesday 27th September 2022 and closed on Friday 11th November 2022.
The objective of Tier 1 is to improve the sustainability of farms in Northern Ireland (NI).  It will provide support for farmers and growers to invest in equipment and machinery that will help realise improvements in efficiency, environmental practice, animal health and welfare, and health and safety associated with modern farming practices.
Tier 1 is for projects costing from £5,000 – £30,000 (£2,000 – £12,000 grant) and is primarily aimed at the purchase of off-the-shelf equipment and machinery.
See the official DAERA website for more information on Tranche 4
Tier 2
The focus of Tier 2 is on larger scale investment to encourage a step change in the agriculture and horticulture sectors, and to drive transformational investment in future proofed, fit for purpose, modern infrastructure and equipment, guided by a robust business planning process within assisted farms.
Tier 2 is for projects costing from £30,000 – unlimited (£12,001 – £250,000 maximum grant) and is primarily for construction projects and the purchase of higher value equipment linked to the needs in the farmer's business plan.
See the DAERA website for more information
Key requirements for the applicant (Tier 1 and Tier 2)
The scheme is primarily aimed at those who are actively farming.  Applications must meet the following key requirements:
1) Possession of a valid DAERA Category 1 Farm Business Identification Number (ID)
A Category 1 Farm Business ID is required for all applicants to the FBIS – Capital.  Further information and details on how to apply for a DAERA Farm Business ID can be found at the following link: DAERA Farm Business ID
2) Completion of farm safety training and assessment- certificate through the Making It Safer self-assessment
All applicants to the Scheme must complete the "Making it Safer" self assessment certificate where the applicant will be required to answer questions relating to their own farm on; Slurry, Animals, Falls and Equipment (SAFE). This is an online tool available at the Farmsafenet website.  A certificate will be issued on completion.
Applicants will need to save this digital certificate (save on a computer rather than a mobile device) as it will need to be uploaded as part of the application process.  The DAERA Farm Business ID number entered onto the certificate will be checked against the Farm Business ID number on the FBIS Capital application form.  It is essential that the Farm Business ID number is entered onto the "Making It Safer" certificate, otherwise it cannot be accepted and the application will be ruled ineligible.
3) Completion of a proportionate business plan
Tier 1
For Tier 1, this will be a straightforward part of the application form.
Tier 2
Applicants to Tier 2 will be required to submit a separate robust business plan as part of their application, which shows that they have carefully planned their investment and what difference the proposed project will make in transforming their farm into a more sustainable, efficient and safer business.
Outline of the areas to cover within the Tier 2 business plan:
Current farm business
Details of the proposed project and its implementation
Objectives and outcomes to be achieved
How Health and Safety issues have been addressed
What environmental mitigations have been considered
Financial objectives set within the plan; and
Detailed financial projections to support the plan.
DAERA will assess the objectives in the applicant's business plan against those of Tier 2 of the Capital Scheme.
Additional information for applicant
Anyone needing assistance or additional information can contact Countryside Services Ltd by calling 028 8778 9770 or emailing tier1@countrysideservices.com.