FBIS Capital Contribution to Improved Grassland Management
in News 2nd November 2020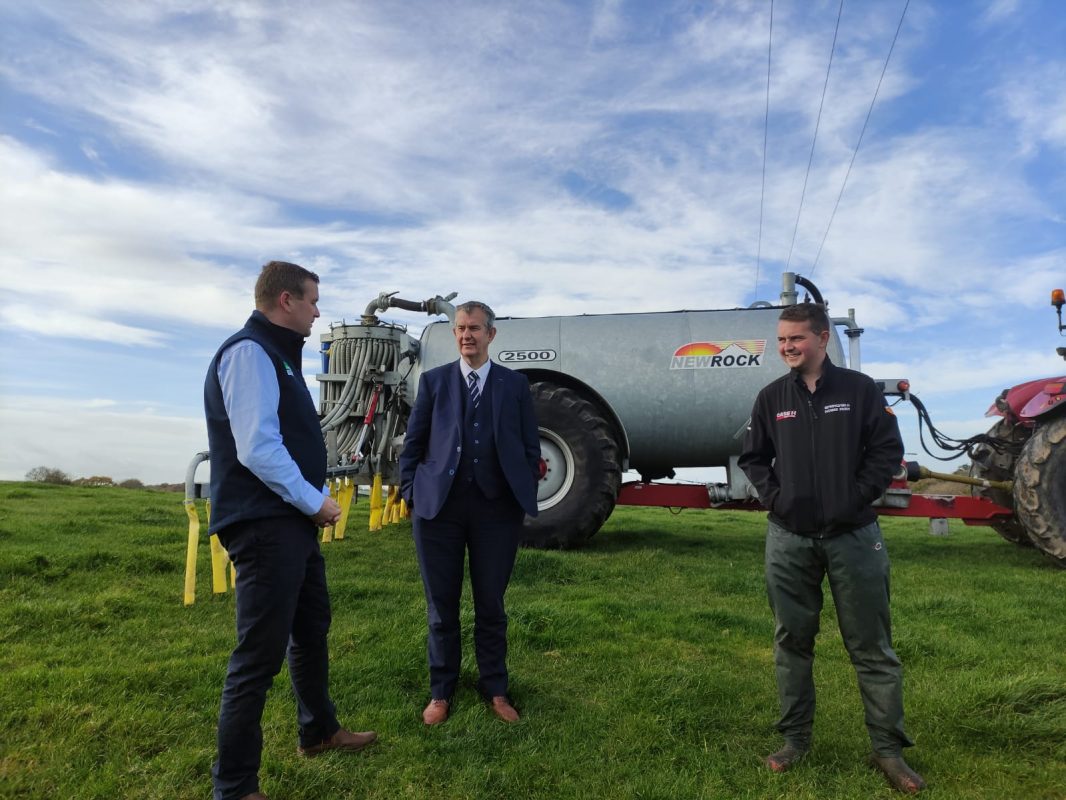 Detailed attention to grassland management has enabled Simon Meredith and his father, Stephen, who farm at Moodage Road, Tandragee to cut fertiliser costs and more efficiently finish their cattle off grass.
The purchase of a 2000 gallon slurry tanker fitted with a dribble bar slurry distribution system has been one contributing factor to this success.
Simon explained "This purchase was facilitated by financial support through Tier 1 of the Farm Business Improvement Scheme – Capital and has made a huge difference to our grassland management. The dribble bar distribution system spreads the slurry between the blades of grass which means less nutrient loss; grass is not contaminated with slurry and there is less ammonia released into the atmosphere. An added bonus is the reduction in the smell from the slurry."
He added "As there is less nutrient loss and the grass leaf is not contaminated with the slurry there is a quicker recovery of the sward which means extra grazing days. Cattle are grazed in rotation, with slurry applied using the dribble bar reducing the requirement for artificial fertiliser."
The Merediths farm 107 acres with a further 70 acres taken in conacre for the past 20 years.
Currently the partnership runs a spring calving suckler herd of Limousin and Blonde cows crossed to a Blonde bull. The calves are finished at 25/26 months weighing 390 to 400 kilos. There is also a dairy calf to beef system and 180 early lambing ewes producing lambs for the Easter market and freeing up grazing for the cattle enterprise.
Since Simon completed the Level 2 Diploma in Agriculture at CAFRE – Greenmount Campus he has overseen improvements to the grassland management of his farm, particularly around slurry management. These have resulted in savings in fertiliser and contractor costs.
Speaking during his visit to Tandragee, Minister Poots said: "I am delighted to see a farm business making excellent use of technology that will undoubtedly ensure the future sustainability of this farm. Improving how we farm will have long term benefits for our environment and I encourage farmers to avail of such technologies and more to help develop their farm into more efficient and environmentally aware businesses. I look forward to hearing many stories like this one from Stephen and Simon coming out of our new Tranche of Tier 1 of the Farm Business Improvement Scheme which will open on the 2nd November"
Commenting on the re-opening of Tier 1, FBIS – Capital, Dr Andrew Kerr, FBIS Contract Manager, stated that "farmers should carefully consider their investment options for modernisation of their farm businesses and when the scheme opens, should access a copy of the FBIS-Capital Explanatory Booklet and List of Eligible items which will available to download from the DAERA website or www.countrysideservices.com. These documents detail who is eligible to apply, the support available, how to make an application and how applications will be assessed.
Dr. Kerr continued: "Given our involvement in the delivery of Tranches 1 & 2 of the FBIS we have an experienced and dedicated staff team available to deal with enquires from farmers and growers planning to make an application. Our contact number is 028 8778 9770."
---