Farm Business Improvement Scheme Assists Grassland Management And The Environment
in News 25th November 2020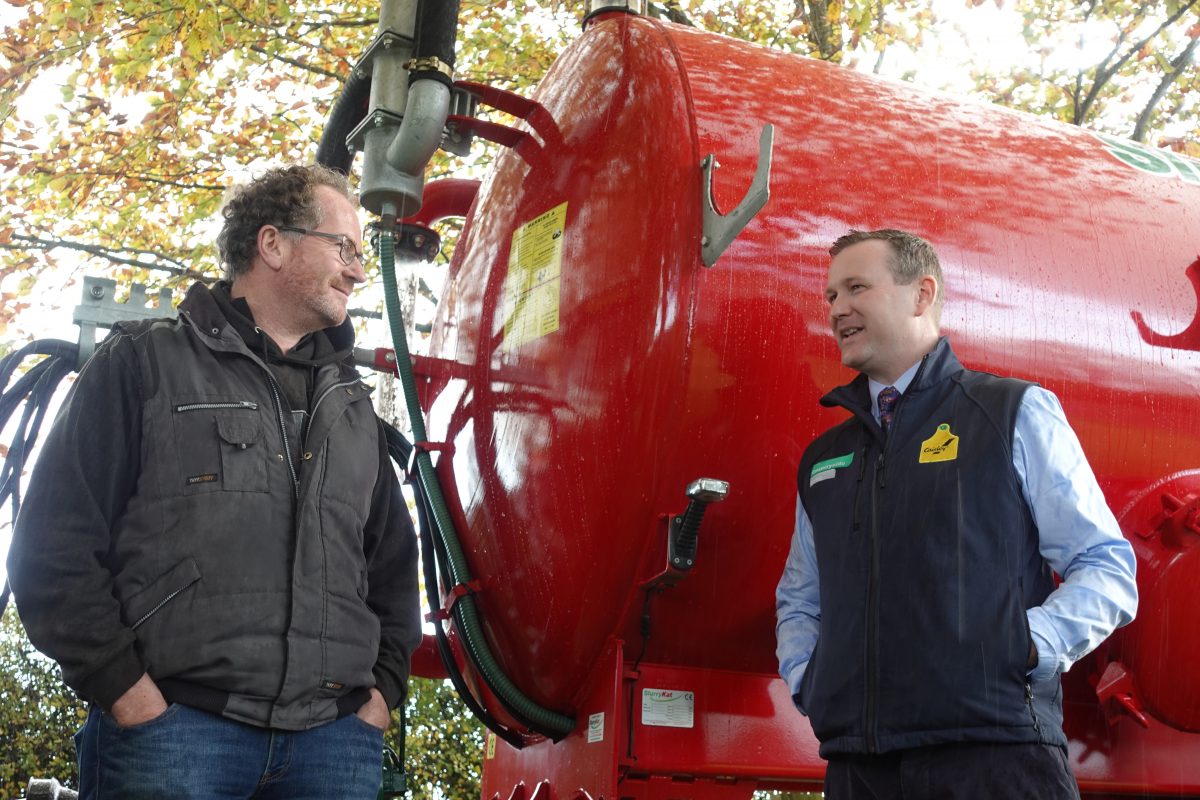 Financial assistance for the purchase of slurry equipment under the Farm Business Improvement Scheme has enabled Dungannon farmer, Stephen Hayes to improve his grassland management and cut fertiliser costs while contributing to environmental improvements.
Stephen farms at Grove Hill, Clonmore Road, Dungannon where he runs a herd of spring calving suckler cows with all progeny sold for finishing at approximately 625 kilos and 24 months of age. The herd is mainly Belgian Blue and Limousin cross cows running with three Limousin and one Blonde bull.
He will eventually have help from his son, Scott, who, through CAFRE, is currently undertaking the first year of his BSc (Hons) degree in Agricultural Technology at Queens University after a Level 3 course in Agriculture at Greenmount.
Detailed management accounts are a priority on the Grove Hill and every opportunity to cut costs, improve management and help the environment is utilised.
Slurry spreading was one such opportunity where Stephen realised that he could cut contractor costs, improve grazing efficiency and grassland management, while making a positive contribution to the environment.
Utilising a grant from the Farm Business Improvement Scheme he purchased a 2250 gallon slurry tanker fitted with a dribble bar. He commented "The tanker with a dribble bar is more efficient than one with a splash plate and is more environmentally friendly too. The dribble bar places the slurry between the blades of grass rather than aerating it and then spreading it over the crop as happens with the splash plate system. This aeration and time spent on the pasture not only provides opportunity for the spread of slurry gas but also increases the smell problem associated with slurry spreading."
Stephen added "This shorter turnaround time means a reduction in the use of artificial fertilisers in addition to avoiding contamination of the grass leaf, which, in turn, allows the opportunity to apply slurry to heavier swards. The faster grass recovery has resulted in extra grazing days on the sward. Less money spent on fertiliser will make the farm business more sustainable, improve water quality and help the environment. In many instances the full potential of grass is not being fully exploited."
Commenting on the impending deadline for making an application for financial support under Tranche 3, Dr Andrew Kerr, Contract Manager with Countryside Services Limited commented: With the deadline of 4th December for submission of completed applications fast approaching, we are encouraging all farmers wishing to apply, not to leave submission to the final days of the application period, but prepare their application early. In particular, Dr Kerr reminded farmers that an up to date 'making it safer' certificate and 'indication of support letter' from their bank must be uploaded as part of the online application process. All applications should be completed online using the EU grants European Structural & Investment Funds website www.eugrantfundingni.org
Dr Kerr added: "There has been considerable interest in the scheme to date, with our administration team dealing with a high volume of enquires on a daily basis. If any farmer or grower has any queries regarding the scheme, they can contact a member of our team on 028 8778 9770."
---