Countryside Services raises £9,000 for two local charities
in Events 15th December 2021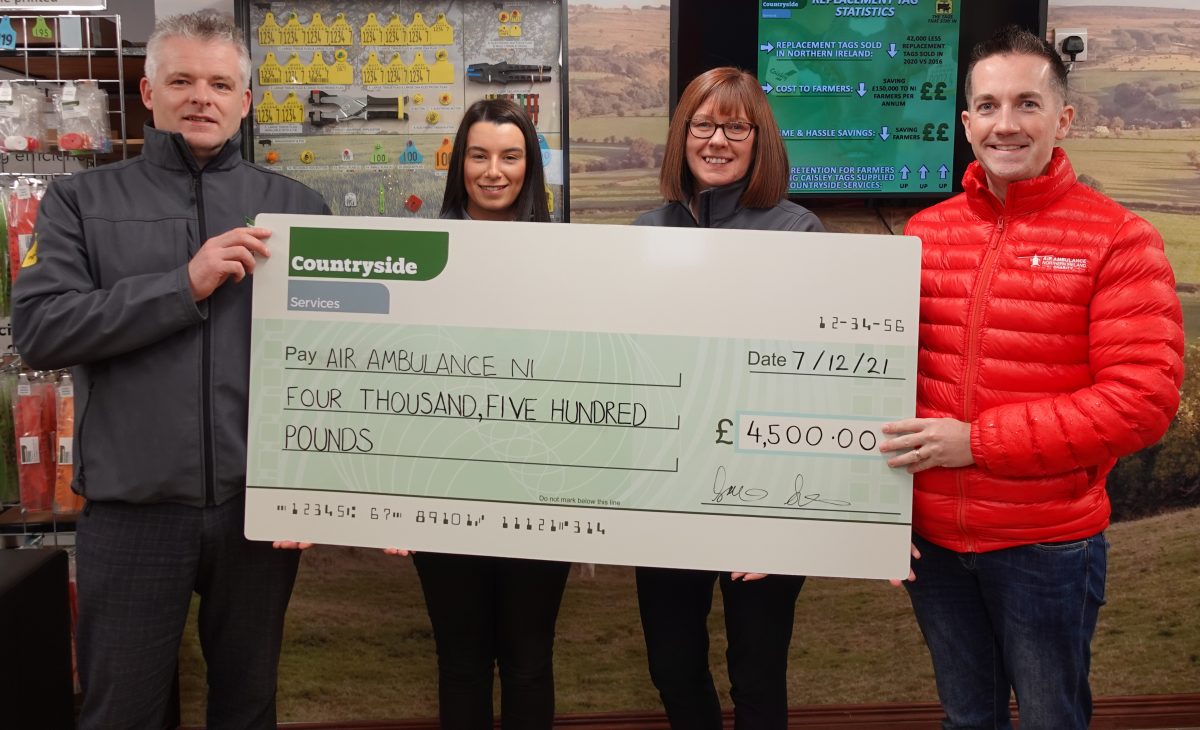 Countryside Services Ltd has presented donations to two local charities, Air Ambulance NI and Charis Cancer Care, with each benefiting from £4,500 to help their work in supporting people and their families across Northern Ireland.  
Explaining their commitment to supporting and funding causes which make a 'real and lasting difference' to people across Northern Ireland, Ian McNiece, Countryside Services Managing Director said: "This tremendous achievement wouldn't be possible without the continued support we receive from our customers.  I want to especially thank our staff and our entire family at Countryside Services for making these causes their own throughout 2021."  
Praising the fundraising efforts Damien McAnespie, Air Ambulance NI Area Fundraising Manager said: "Air Ambulance NI are delighted to receive £4,500 from Countryside Services Ltd following their support over 2021. This donation will help the Helicopter Emergency Medical Service (HEMS) continue to respond and provide critical pre-hospital care to people who have experienced a trauma or medical incident, potentially saving up to two people's lives, brains or limbs somewhere in Northern Ireland. We sincerely appreciate their support in raising awareness of the service and also their fantastic donation."
Also commending the work of Countryside Services, Katrina Hughes from Charis Cancer Care said: "All of us here at Charis Cancer Care are overwhelmed at the support Countryside Services have provided over the last year with their fundraising. The team have dedicated themselves to doing all they can to raise vital funds for ourselves & Air Ambulance NI and we are honoured to have been selected for 2021 as a charity partner. Every single penny raised will go directly into running our services and supporting those affected by cancer across Northern Ireland, and we would like to thank everyone at Countryside Services Ltd as well as all of the wonderful supporters who have donated throughout the year."
Concluding Ian McNiece said: "Throughout the year our staff and customers have become immersed in a range of activities to help raise both awareness and funds to support the work of these two important charities.  From our colourful charity calendars to collecting in the agricultural marts the support has been truly terrific. 
"Both charities provide services which can support everyone no matter where they live in Northern Ireland, but especially for those in our agri-food industry where the risks are so often higher due to the isolated nature of farming and the working and weather conditions.  
Air Ambulance Northern Ireland is the local charity that provides the HEMS, together with its partners at the Northern Ireland Ambulance Service. Reaching any part the province in under 25 minutes, HEMS deliver advanced critical care to the scene of the incident, potentially making the difference between life and death.
Charis Cancer Care is an award-winning holistic cancer care centre, based just outside Cookstown, which provides a range of holistic and complementary therapies to individuals and their families, who have been affected by cancer. They offer support, free of charge, at every stage of the journey with the disease. The charity also supports families of those living with, or bereaved by cancer and have worked with nearly 9,000 people since opening almost 12 years ago, and demand is continually increasing.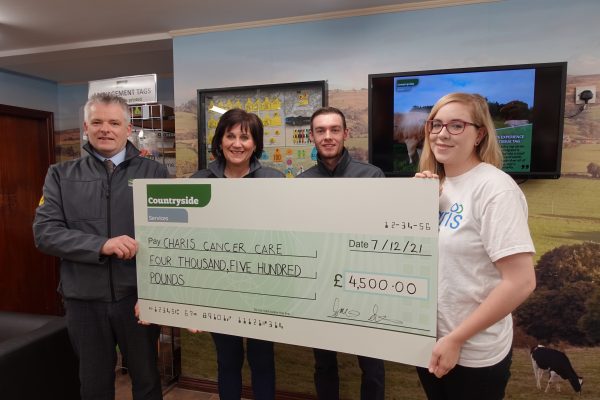 ---